1985-1993
Start of interior modifications
Painted
2000
Albatros front beam custom Koni double adjustable shocks in front
2003-2006
Replaced motor with 1986 911 3.2 engine
Built custom dash gauges
2008-2009
Upgraded to carbs and electronic ignition
Custom gas pedal with 3 axis adjust
Replaced bucket seats with Scheel seats
2015-2020
'79 930 3.3 motor and 915 trans upgrade
Added Eibach 150 lb helper springs and modified rear Impy sway bar to help with turbo squat
My 1968 VW Type 2 Bus Conversion

1968 VW Crewcab: Interior
by Harold Williams

Wiring & Gauges
In 2005, since I had an under-dash electrical fire a few years prior, I decided to rewire the bus based on the '73 911 schematic. As far as the motor wiring, I bought a Porsche female 25 pin plug and wired it to match the existing male plug on the motor. I modified the Porsche gauges and matching sending units that went with the motor.
In 2009, I replaced the Recaro bucket seats with Schel seats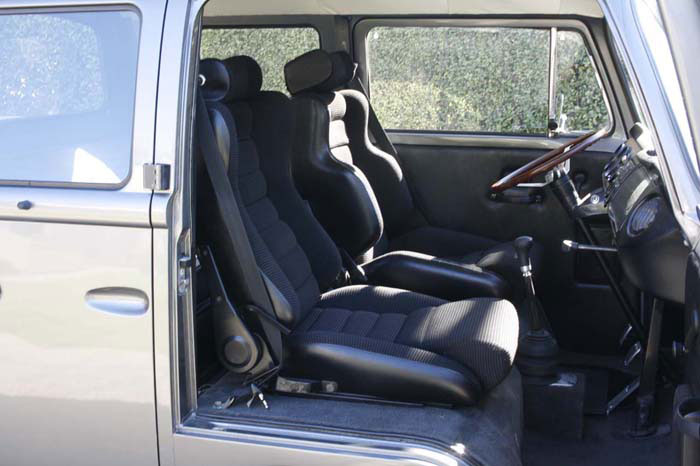 Scheel seats
In 2015, as I was converting to the 930 3.3 turbo engine, I decide to make a new dash and gauge housing with extra guages to monitor the motor. I made the center gauge a few years ago for another project. It houses the tach, oil pressure, oil temperature, shift light, low air/fuel warning light, and the turn signals. I machined a new housing for the left gauge. It's the same size as the stock 911 tach housing, and uses the stock bezel & glass. The gauge houses the Innovate G4 air/fuel gauge, AEM turbo boost gauge, 914 fuel gauge, and various warning lights. The speedometer was set to zero to reflect the motor milage. An in-cabin manual turbo boost knob was also added.